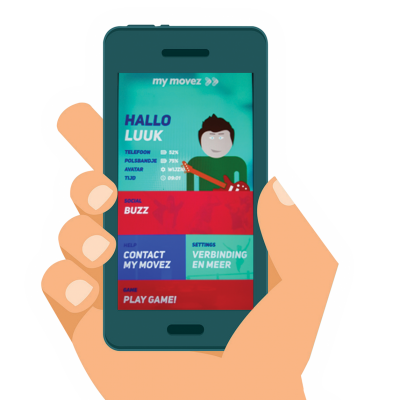 MyMovez: Social network health campaigns
This research project aims to improve obesity prevention campaigns for young people by targeting their social networks. Social forces such as family and friends can be used to enhance campaign effects, which has become extremely relevant with the explosive growth of social media. The interdisciplinary research team will develop an approach to identify the most influential kids in social networks and their most effective influence strategies. These insights can be used to target and tailor health campaigns.
For the MyMovez research project a so-called Wearable Lab is developed to enable an attractive way of collecting data and online campaign implementation via social networks. The Wearable lab exists of a smartphone-based research application (app) connected to an activity tracking bracelet. The smartphone and activity tracker jointly collect self-reported and objective data on daily randomized and fixed time points.
This research project is funded by a Consolidator Grant by the European Research Council (ERC).
Learn more about the MyMovez project.